Bartang Valley
Already in the 1930ies the Russian explorer Pavel Luknizki had stated :
"The one who has not been in Bartang valley
has not been in the Pamirs at all."
Even the Pamiri themselves consider the Bartang valley as the maybe most prototypical region of their homeland.
On the one hand most of the Non-Bartangi view their compatriots, especially those from Upper Bartang, with reverent respect due to their harsh living conditions, which do not seem to have anything in common with those in the provincial capital Khorog.
On the other hand they are fascinated in the face of the age-old traditions that are still alive in this particularly remote region.
Bartang is therefore the No. 1 destination for those who wish to observe millennium-old manual agricultural techniques or rituals which have already been forgotten for generations in other parts of the Pamirs.
Have you ever been using an oxen-plough, threshing grains and winnowing by hand? In Bartang valley you can try all of this. Furthermore don't forget to visit some Ostons, holy places. There are several significant ones in Bartang – do not miss to be told the legends surrounding them and to take some holy soil from there. 
If you are fortunate enough to stay in Bartang during the Muslim Festival of Eid, you will be able to witness many fascinating little rites in the course of this holiday, which are only performed locally in this specific way. Or maybe you will run into one of the knowledgable traditional Mullos, who will look into his holy books, which have been passed down from generation to generation to him, in order to tell you about your destiny or to write a healing amulet for you.
In some villages remains of refuge castles, caves for hiding and secret exits in houses narrate about the time prior to the "pax sovietica", when Kyrgyz marauders from the Eastern Pamirs where regularily plundering the Bartangi villages. Many other historical traces, which can be discovered everywhere in Bartang valley, bear testimony to a long settlement history. Keep your eyes open for solar calenders, board games and footprints of mythical beings on stones and for the omnipresent petroglyphs from several periods.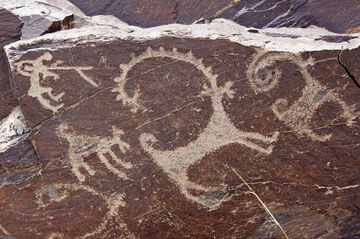 The scenery in Bartang leaves nothing to be desired as well: Whereas the lower part of the valley is characterized by ragged gorges and an adventurous road (which had been finished only in the 1990ies), the valley widens in its upper parts. At the same time the climate gets successively more arid: The sterile yet in geological terms very exciting mountain slopes with their colourful stones stand in sharp contrast to the often deeply turquoise river and the river oases, which shine in bright green during spring time.
In these oases most villages are situated. Each of them has its own unique character. An exception of the rule is Roshorv, one of the largest villages in all Badakhshan, which lies in a spectacular location on a stormy high-plateau directly below the sharp Pik Lapnazar (5990 m), the "Matterhorn" of the Pamirs.
Some more "VIPs" among the Pamiri summits can be observed or even climbed from Bartang, for example former Peak Revolution, today renamed Peak Independence (6940 m). For "Summitviewing" it is best to enter one of the idyllic and even more remote side valleys of the Bartang. Possibly you will also meet some shepherds on the high-pastures there – they will be glad for some helping hand in their strenuous work of butter making.
This seeming idyll is just spoilt by one thing: Especially in Upper Bartang you can experience from close how tightly political upheavals and ecological change can be intertwined. This region is generally poor in forests, and since the breakdown of the Soviet Union the supply with subsidized coal has also ceased. However the population has been constantly growing during the Soviet time, so that since the 90ies a massive and accelerating energy crisis occurs. On your tour you will everywhere meet women who are pulling out the last dry roots from dizzying steep slopes (which are then exposed to erosion without protection), in order to bring them the up to 20 km back to their village- either on their donkey's or even their own back.

For an initiative that is addressing this problem, see www.bartang-has-future.com .

                                                                         -
As you are already in Bartang, you should not omit a visit to the famous Lake Sarez, if you are equipped with a permit. Continuing further up the Tanimas and Kokubel-branch of Upper Bartang you will reach the Tanimas glacial system, Aktash and finally Karakul Lake. It is also possible to cross south to Ghunt or north to Yazgulam Valley.