Our offers
If you are a prospective tourist interested in travelling with us, please use the "tour on demand" option or see which ready tours are already available online.
If you are an alpinist and need logistical support, see here.
If you are a scholar planning to do research in Tajikistan and wish our assistance, see here.
If you are working for a tour company from outside Tajikistan and seeking for a reliable local partner, see here.
For these and other requests you can also directly use the contact form.
Special Offer I: Through the Pamirs on Mountainbike
(06.) / 07.- 19. June 2016   or (05) / 06.-18. September
In cooperation with the German Tour Company "Epic Trails", specialized in Moutainbike-Tourism in Central Asia, we offer a unique Mountain Bike Tour from Khorog through the spectacular and remote Bartang Valley and over the Eastern Pamirian Plateau till to Pik Lenin Basecamp in Kyrgyzstan. Transfers from Dushanbe to Khorog and from the Pik Lenin Basecamp to Osh are included. To our knowledge, no other tour company, neither in Europe nor Central Asia, is offering this tour so far. Though the tour has been initiated by a German company, the German guide as well as our local Tajik tourleader are both fluent in English, and so will be most participants. Therefore non-German participants are explicitly equally welcome! Most of the equipment will be provided; he only prerequisite is that the participants bring their own bike (Epic trails can advise on shipping issues).
The september tour's conduction is already guaranteed, the June tour will be confirmed as soon as there are enough enrolments.
For more information regarding this specific tour and booking, please contact our German partner "Epic trails" under info@epic-trails.com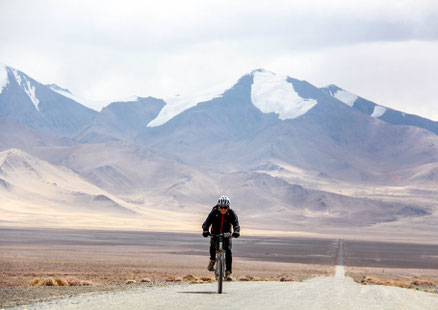 Special offer II: Spring Jeeptour through Wakhan & the Eastern Pamirs      (flexible itinerary)
Start: Between 15th and 20th of May 2016
Duration: +/- 10 days
A client of us is still seeking for travel partners for a spring Jeeptour through the Wakhan corridor and over the Alichur plain, possibly including some smaller detours. It is supposed to start either in Dushanbe, Rushan or Khorog and end in Murghab (but an extension to Sarytash or Osh in Kyrgyzstan is also possible). Beginning date, duration and detailled itinerary are to be negotiated. The price for guide, driver and car will be shared among all the participants.
If you are interested in further information and getting in touch with your prospective travel partner(s), please contact us through our contact form.