About us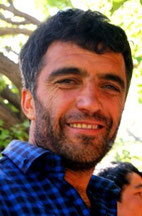 Nice to meet you! I am Avazbek Alifbekov,  the main operator of this company. I am a native of Bartang Valley in Gorno-Badakhshan, for which I would soon like to enthuse you. Through my university studies of Tajik history and Philology, as well as through self study, I acquired the knowledge about my home country which is essential for satisfying ambitious tourists' demand for information. From my childhood on I have been enjoying listening to the elders who were transmitting their wisdom about our old culture and history...
After finishing university I worked  as a teacher of English, Tajik, History and Ethics for several years. From my pedagogical and didactical experience I can still profit when I seek to convey information to the tourists in an inspiring way.
Having acquired experience by working for other agencies during my first years as a tourguide, I meanwhile went into business for myself. Additionally I gained several years of experience working as a research assistant and interpreter in Cultural Anthropology, Geography and Biology for university scholars as well as for non-governmental organizations.
I am fluent in English, Russian, Tajik and several Pamiri dialects.
I decided to become a tourguide as I like working with foreigners and want to make my beautiful home country accessible to them. Promoting tourism is also the best thing I can do for my community, as it generates sustainable sources of income in a region which is still characterized by subsistence economy (which is however not sufficient anymore).
If you need further information, please contact me for a CV and Letters of Reference.

In case I am already booked for the time during which you want to conduct your travels, I will commission the guidance of your trip to another reliable tour guide affiliated with this travel agency.